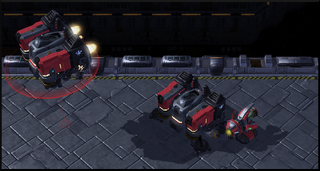 Description
Edit
The Barracks is Terran's infantry production facility. Like Terran's other army production facilities, the types of units it is able to produce depend on the player's control of tech structures, as well as the presence of an attached Tech Lab.
Building Information
Edit
Attributes: Armored - Mechanical - Structure
Cost:
150

0
Build time: 67 seconds
Hit Points: 1000
Armor: 1 (Can be upgraded to 3 by researching Structure Armor)
Sight Range: 9
Requires: Command Center
Produces:
Unlocks
:
Lifted Movement Speed
: 0.938
Abilities
Edit
Lift Off
Duration: 2 seconds


Transforms the Barracks into a slow-moving air unit for redeployment. The Barracks may not produce units, research upgrades, or use abilities until it has landed. Landing next to a vacant Tech Lab will connect the Tech Lab to the Barracks, enabling additional unit production.
Build Tech Lab
Cost: 50 25
Research Time: 29 seconds


Creates an attached building to enable additional unit production and research. If this Barracks lifts, the attached Tech Lab will be remain in place, and other Barracks, Factories, or Starports can be attached.
Related Links
Edit