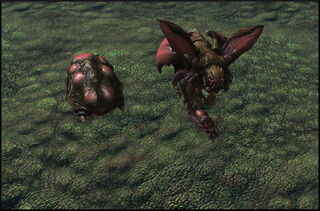 Description
Edit
The Devourer is a specialized anti-air flying unit. It is morphed from a Mutalisk, requiring a Greater Spire. The speed is below average for being an air unit. Devourers can slowly damage ground units and structures in a fixed area with Blight, which requires them to be channeled, making them stationary (can be canceled). Devourers attacks apply a unique Acid Spore debuff in an area around the unit hit which slows attack speed and makes units take 1 more damage from attacks. The Acid Spore debuff can be stacked up to 9 times on the same unit.
Unit Information
Edit
Type: Armored - Biological
Cost:
200

150
2
Build time: 33 seconds
Life: 250
Armor: 2
Movement Speed: 2.8
Sight Range: 10
Built from: Mutalisk
Requires: Greater Spire

Weapon
: Corrosive Acid
Damage: 25 (Splash)
+2 damage each weapon upgrade
Attack speed: 5.95
Range: 6
Attacks: Air
Abilities
Edit
Acid Spore (Passive)
Duration: 60 seconds


Each attack by the Devourer infects all enemy air units hit and in an area around them (1.5 radius) with Acid spores. Units affected by Acid Spores will have their attack speed slowed down by 12.5% and take one additional damage from attacks. Acid spores last 60 seconds and can stack 9 times on the same unit.
Blight
Range: 6
Effect Radius: 2
Cooldown: 90 seconds
Duration: 30 seconds


The Devourer spews acid onto the ground that deals 5 damage per second to enemy ground units and structures. Lasts 30 seconds.
Related Links
Edit