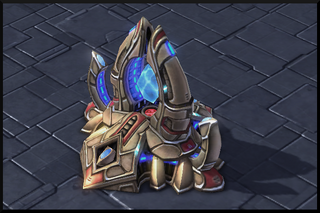 Description
Edit
The Gateway is basic unit-producing structure. Produces Zealots, Dragoons, High Templars, and Dark Templars. Can be transformed into Warp Gate if Warp Gate has been researched at the Templar Archives.
Building Information
Edit
Attributes: Armored - Structure
Cost:
150

0
Build time: 50 seconds
Shields: 500
Hit Points: 500
Armor: 1
Sight Range: 9
Produces:
Unlocks
:
Cybernetics Core
Abilities
Edit
Transform to Warp Gate
Cost: 50 100
Duration: 22 seconds


Upgrades this Gateway to a Warp Gate, allowing it to warp in ground units to any location powered by a Pylon or Warp Prism.
Related Links
Edit