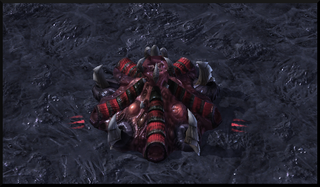 Description
Edit
Primary Zerg structure. Periodically spawns Larvae and receives resources gathered by Drones. Generates Creep locally, which is used to feed nearby Zerg structures and provides a small amount of regeneration to Zerg units.
Building Information
Edit
Attributes: Armored - Biological - Structure
Cost:
300

0 (Produces
2)
Build time: 100 seconds
Hit Points: 1500
Armor: 1
Sight Range: 10
Produces:
Unlocks
:
Upgrades
Edit
Mutate into Lair
Cost: 150 100
Evolution Time: 83 seconds


Evolves the Hatchery into a Lair, allowing additional upgrades and structures to be produced.

Requires Spawning Pool.
Burrow
Cost: 100 100
Evolution Time: 70 seconds


Enables all Zerg ground units to use the Burrow ability. Burrow allows a unit to take cover underground, rendering it unable to attack. A burrowed unit is invisible unless revealed by detectors or effects.
Tunneling Claws
Cost: 100 100
Evolution Time: 70 seconds


Allows Drones, Queens, Zerglings, Hydralisks, Defilers, and Ultralisks to move slowly while burrowed.

Requires Burrow and a Lair.
Related Links
Edit