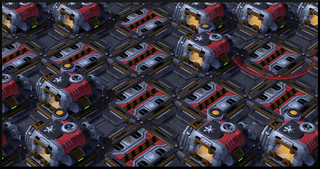 Description
Edit
The Supply Depot is a structure whose main purpose is providing Supply. Each Supply Depot increases the Terran's maximum

by 8.
Supply Depots have the ability to Lower and Raise, respectively letting pass or blocking ground units. For this reason they are a fundamental part of Wall-ins.
Building Information
Edit
Attributes: Armored - Mechanical - Structure
Cost:
100

0 (Provides

8)
Build time: 33 seconds
Hit Points: 400
Armor: 1 (Can be upgraded to 3 by researching Structure Armor)
Sight Range: 9

Abilities
Edit
Lower

Lowers the structure, allowing ground units to move across it.
Raise

Raises the structure, preventing ground units from moving across it.
Related Links
Edit