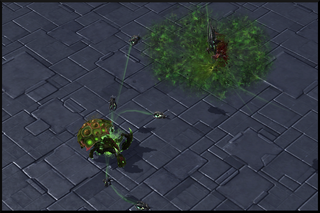 Description
Edit
The Swarm Lord is an Anti-Air specialist that casts clouds of parasites to damage clumps of enemy air units. Has a single target anti-air attack that shoots six times. Both the attack and the parasitic cloud damage are heavily affected by armor. The Swarm Lord also has an anti-ground attack with a small range that deals area of effect damage, which is mainly useful against small melee units, such as Zerglings.
Unit Information
Edit
Type: Armored - Biologic
Cost:
100

100
2
Build time: 31 seconds
Life: 100
Armor: 1
Movement Speed: 2.9
Sight Range: 8
Built from: Larva
Requires: Viper Nest

Weapon: Acid Saliva

Damage: 16
+2 damage each weapon upgrade
Attack speed: 1.9
Range: 3.5
Attacks: Ground
Acid Saliva has a linear splash damage effect.
Weapon: Bile Swarm

Damage: 3x6
+1 damage each weapon upgrade
Attack speed: 1.9
Range: 6
Attacks: Air
Abilities
Edit
Parasitic Swarm
Range: 8
Effect Radius: 1.8
Cooldown: 6 seconds
Duration: 2.7 seconds


The Swarm Lord summons a swarm of parasites every 6 seconds that lasts 2.7 seconds and deals 40 damage per second. Damage is mitigated by armor: every point of armor reduces the damage per second by 6.7 (and the total damage by 18).
Burrow

Burrow allows a unit to take cover underground, rendering it unable to attack. A burrowed unit is invisible unless revealed by detectors or effects.

Researched from Hatchery, Lair or Hive.
Related Links
Edit