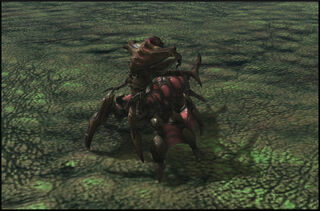 Description
Edit
The Swarm Queen is a bulky basic ground unit. Is trained directly from Hatchery/Lair/Hive, without a Larva. Swarm Queens don't use
Control. A maximum of one Swarm Queen per Hatchery/Lair/Hive can be built.
Can be used to increase production by using Inject Larva which gives an extra Larva or to extend Creep and provide vision with Spawn Creep Tumor. Alternatively the Swarm Queen can be employed in a more defensive manner by using Enrage, which lets the Swarm Queen attack in melee range with a splash attack or Transfuse to heal units or structures.
Unit Information
Edit
Type: Armored - Biological - Psionic
Cost:
50

50
0
Build time: 39 seconds
Life: 125
Energy: 25/50
Armor: 1
Movement Speed: 1.0 (2.5 on Creep; 1.0 when burrowed; burrowed movement requires Tunneling Claws)
Sight Range: 8 (5 when burrowed)
Built from: Hatchery, Lair, or Hive (at most one per structure)
Requires: Spawning Pool

Weapon
: Talons
Damage: 10 (Splash)
+0 damage each weapon upgrade
Attack speed: 0.91
Range: 1 (Melee)
Attacks: Ground
Talons deal Splash Damage in a 150° forward circular sector with a radius of 1, with center in the Enraged Swarm Queen.
Abilities
Edit
Enrage Queen
Cooldown: 38 seconds
Duration: 22 seconds


Enrages the Queen, allowing it to attack targets in melee range.
Spawn Creep Tumor
Energy: 0
Range: 5
Evolution Time: 3 seconds
Cooldown: 30 seconds


Lays a Creep Tumor at a targeted location on Creep, which will slowly generate additional creep. Creep Tumors offer vision and can block pathing.
Inject Larva
Energy: 15
Range: Unlimited
Duration: 14 seconds


Causes a targeted Hatchery, Lair, or Hive to spawn additional Larva faster. Eggs nearby an injected Hatchery, Lair or Hive morph faster as well.
Transfusion
Energy: 40
Range: 7


Releases a cloud of nurturing insects at a targeted biological unit or structure, restoring 110 Hit Points.
Burrow

Burrow allows a unit to take cover underground, rendering it unable to attack. A burrowed unit is invisible unless revealed by detectors or effects.

Researched from Hatchery, Lair or Hive.
Upgrades
Edit
Related Links
Edit