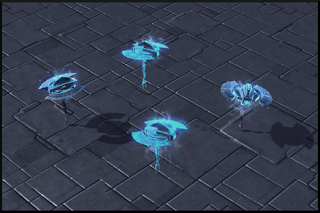 Description
Edit
The Void Relic is a vicious hovering chasing unit. It's quite expensive and is pretty fast but not particularly sturdy. Has a weapon which locks onto a target and keeps attacking it even if the Void Relic is moving (like the Diamondback of the WoL campaign). Can attack Ground and Air. Void Relics can also enter a cloaked passive state to gain more vision. While in this state they cannot attack or move. This is can be very useful to save them in case of danger, e.g. if a flock of Mutalisks finds the void relics alone away from the protoss base.
Unit Information
Edit
Type: Armored - Mechanical - Hover
Cost:
150

125

3
Build time: 36 seconds
Shields: 80
Life: 120
Armor: 0
Movement Speed: 2.95
Sight Range: 9 (13 while using Hide in the Shadows)
Built from: Robotics Facility

Weapon: Rift Beam

Damage: 8x2
+1 damage each weapon upgrade
Attack speed: 0.8
Range: 5
Attacks: Ground and Air
Rift beam takes 2 seconds to lock to a new target, and has 3 range slop, which means that the distance between the void Relic and the target can increase by 3 after the attack has started (for a maximum distance of 8) .
Abilites
Edit
Hide in the Shadows

The void relic stands invisible and unable to attack. Gets increased vision range (+4, up to 13) while in this state.