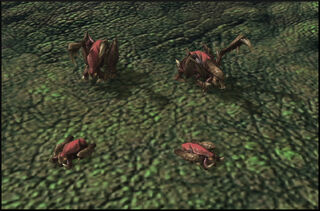 Description
Edit
The Zergling is a basic melee unit. Zerglings have low health but very high damage output for their cost. They start with a good speed, slightly faster than workers and can be made even faster by evolving Metabolic Boost. With this upgrade they become one of the fastest units in the game, outrun only by speed-upgraded Vultures, making them able to pick fights and very good for counterattacks. Single burrowed Zerglings are frequently used to delay expansions or for spotting, since they are so cheap. Their attack speed can be increased with Adrenal Glands in the later stages of the game. Zerglings with the Adrenal Glands upgrade, usually called cracklings, are very good at sniping undefended buildings and become especially dangerous with Dark Swarm support.
Unit Information
Edit
Type: Light - Biological
Cost:
50

0
1 (for two Zerglings)
Build time: 23 seconds
Life: 35
Armor: 0
Movement Speed: 3.13 (Can be upgraded to 4.7 by researching Metabolic Boost, 1.75 while burrowed; burrowed movement requires Tunneling Claws)
Sight Range: 5 (4 when burrowed )
Built from: Larva (two Zerglings per egg)
Requires: Spawning Pool

Weapon
: Claws
Damage: 5
+1 damage each weapon upgrade
Attack speed: 0.47 (Can be upgraded to 0.35 by researching Adrenal Glands)
Range: Melee
Attacks: Ground
Abilities
Edit
Burrow

Burrow allows a unit to take cover underground, rendering it unable to attack. A burrowed unit is invisible unless revealed by detectors or effects.

Researched from Hatchery, Lair or Hive.
Upgrades
Edit
Metabolic Boost
Cost: 100 100
Evolution Time: 83 seconds


Increases the movement speed of Zerglings by 50%.

Researched from Spawning Pool.
Adrenal Glands
Cost: 200 200
Evolution Time: 83 seconds


Increases the attack speed of Zerglings by 33%.

Researched from Spawning Pool.Requires Hive.
Related Links
Edit